Thanksgiving Menu
---
Network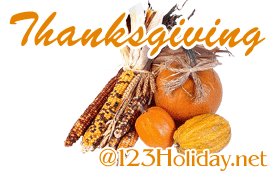 Thanksgiving Crafts
Big Turkey
Supplies: Brown craft paper, construction paper, markers

Directions: Make a large Turkey out of brown craft paper. Make a bunch of large colored feathers out of construction paper and place them all around the turkey On each feather glue a piece of white paper onto it that says: "child's name" "IS THANKFUL FOR" and then a blank line under that. During circle time one morning, have a discussion on what everyone is thankful for and write children's name and response on the feathers. The parents and the kids really enjoy it.
---
Multi-Colored Turkey Hand
Supplies: Paint, paper, marker

Directions: Paint the child's palm brown and then paint each finger using one color for each finger: red, green, yellow, and orange. Have child press hand on piece of paper. After the paint dries you can add the eye, beak, and that little red dangly thing under the beak.
---
Spice Turkeys
Supplies: paper, glue, spices

Directions: Trace each child's hand on paper. Let them "paint" glue on palm and fingers with brush. Let them sprinkle on different Thanksgiving spices on fingers - nutmeg, salt, pepper, cinnamon, allspice, or the like. Let them smell the scents of a Thanksgiving dinner.
---
Native American Vests
Supplies: Markers, T-Shirt paint, burlap

Directions: Have children choose a Native American name to use in the classroom during the course of study relating to Native Americans (Dancing Raccoon, Little Bear, Pretty Flower). Using markers and T-shirt paint, have children illustrate their name on burlap vests. Native American symbols can also be used to decorate the vests. Burlap that is purchased by the yard works great. Simply cut doubled burlap into 12" pieces and make an opening for the child's head.
---
In Step With Thanksgiving
Supplies: paper, old shoes, paper plates, paint

Directions: For wall mural or individual purposes. Draw outline of turkey, side view. Take old, used shoes, have paper plates and paint ready for dipping. After the kids have colored in their turkeys, have them take their shoes, dip in paint, and press paint for turkey feathers. This is adorable as a bulletin board and can be laminated and made into place mats for Thanksgiving. Add the above caption.
---
Sponge Painting Feathers
Supplies: Sponges, paint, paper

Directions: Cut feather shapes from sponges. Be sure to vary the size and include the small stem on the end. Use these to sponge paint with fall colors on large sheets of paper.
---
Paper Bag Turkeys
Supplies: paper bag, newspaper, yarn, paint. paper

Directions: Give each child a brown paper grocery bag (any size) and several sheets of newspaper. Have the children crumple the sheets of newspaper and stuff them into their bags until the bags are half full. Twist the bags closed and tie them around the middle with pieces of yarn. To make tails for their paper bag turkeys, have the children make several cuts from the top edges of their bags down to the yarn ties. Let the children paint their turkey tails. Then give each child a precut turkey head shape to decorate. Attach the head shapes to the front of the bags to complete the turkeys.
---
Collage Turkeys
Supplies: paper, fabric, glue, crayons or markers

Directions: Cut turkey shapes out of construction paper. Give each child a turkey shape and scraps of colorful construction paper or fabric. Have them glue the pieces of construction paper or fabric on their turkey shapes to make colored feathers. Let them use crayons or markers to finish the turkey's features.
---
The First Thanksgiving
Supplies: Butcher paper, crayons or markers

Directions: Tack a long sheet of butcher paper to the wall. Tell the children the story of the first Thanksgiving. Let the children tell you what they are thankful for. As each child shares why they are thankful write it on the paper. Tack the list on your classroom door for everyone to read.
---
Foot & Hands Turkey
Supplies: construction paper or fun foam, scissors, glue, markers

Directions: Each child traces his/her foot with brown or tan construction paper. Have the children trace their hands on several different colors of construction paper. Cut out foot and hands. Have the child glue the hands behind the heel of their cut out foot (for feathers). Have the children cut out and glue on the eyes, gobbler, and beak.
---
Thanksgiving Card
Supplies: Paper, Child's Picture, glue, markers, crayons

Directions: First I cut out a tree in brown made from their two hands together with an arm as the trunk. This tree is the full size of an 8 1/2 x 11 piece of paper. Fold in in half to fit into the card made from any color piece of the same size paper folded across the width of the paper. I then took a small picture of each of the children and glued it into the center part of the trunk avoiding the fold of the paper. I then cut out leaves on which we wrote the names of the child's family, Mom, Dad, brother, sister, etc and we glued them on the tree. I did this one on one and we talked about how special each member of the family was to them. On the front of the card I had a poem which reads: "I have a special place in my own family.
I need my family and my family needs me.
Open up this card with my family tree
To find the important person I can me!"

---
Cornucopia
Supplies: brown Lunch bags, paper, crayons and markers, ribbon

Directions: To make the cornucopia you will need a brown lunch bag. Fold the open edges inside about an inch. Crush the bottom into a small, soft point Then bend the bottom into a cornucopia shape. Have children draw pictures of fruits and vegetables on paper. Cut out pictures and glue each one about 1 inch apart on a long piece of yarn or ribbon. Glue one end of the yarn to the inside of the cornucopia. Suspend the cornucopia by another piece of yarn taped to the top.
---
Pilgrim & Native American Heads using Handprints
Supplies: paper, paint

Directions: Make place mats for your Thanksgiving feast, using handprint Pilgrim and Native American heads. For the Native American paint the palm of the hand with a med brown paint (or any color you want.) and paint each finger a different color. Press on the paper. The use a paint brush and any color paint to ad the head band just below the feathers. For the Pilgrim paint the palm of the hand light brown, and the middle three fingers were painted black. A brush was used to add a black line of paint for the hat brim. After the paint was dry the children added the facial features.



Send Flowers & Gift Baskets Online!





Search the web: